KUGA CAMPERVAN RENTAL
Toyota Campervan 2-3 Berth (2016 - 2020 Fit-Out)
Quick Facts
Adults
2-3
Microwave
Fridge
Gas Cooker
Sink
Light
Usb
Our most popular campervan model, the Kuga Campervan is perfect for travelling and living comfortably during your Australian road trip.
Our Kuga Campervan features a practical and comfortable interior, with the kitchen and bedding fit-out being newly built by us (fit-out 2016-20). It further provides you with extra storage room and extra internal height, compared to the traditional Hitop Campervan. Spacious enough to stand up and move around inside, this is the perfect choice for 2-3 travellers.
The Kuga Campervan also comes fully equipped with a fridge, microwave, and gas stove in the kitchen, as well as 240V power points and USB ports so you can charge your devices on the go. All you need when you rent this campervan is to throw in your sense of adventure!
Key Features
Seats & Sleeps 3
2016 - 2020 fit-out
Extra storage space as well as internal height space
Kitchenette featuring gas cooker, microwave, fridge & sink
2*240V Power Plug-ins & USB plugs
Our Benefits
Access to FREE CAMP SITES
10% discount on premium camp grounds
TAB Drive Guide - access to exclusive discounts
TAB App - free roadtrip info
Extras
Unlimited Kilometers
Toll Free Service Number
24/7 Roadside Assistance
Free road Atlas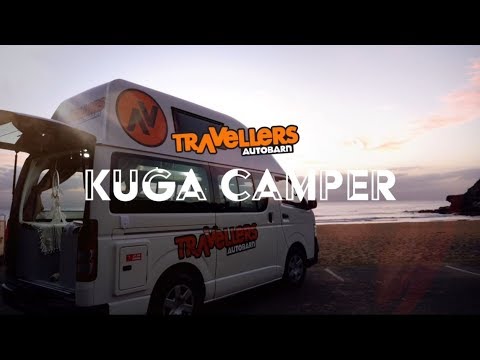 Specification Sheet
Vehicle age: 2010 to 2014
Fit-out age: 2016 to 2020
Transmission: Manual or Automatic (please call us to request automatic)
Engine: 2.7 litre, 4 cyclinder
Fuel: Unleaded
Fuel consumption guide: 12 - 14 litres/100 km
Powered Steering: Yes
Dual battery: Yes
Power supply: 2* 240 V to charge electrical appliances
Seating: 3
Sleeps: 3
Air Conditioning Front Cabin
Gas stove
Microwave
Fridge
USB & 12 V Plug-in
Sink
Water tank
Cigarette lighter / Charger
Radio & CD player
Fire extinguisher
Baby seat (0-3 years): Not suitable for children under the age of 4 years
Booster seat (4-7 years): Available
Our Kuga Campervans are the best budget deal you could also get. Also consider this, when you buy bus tickets and accommodation per person, and throw in the extra transport you may need when the bus only drops in the centre of town, it may be actually cheaper to rent a  campervan like this instead.
---
You may also be interested in: