STATION WAGON HIRE
Ford Falcon Stationwagon 2-5 Passengers (2006 - 2010 Model)
Quick Facts
Adults
2-5
Tent
Chairs
Esky
Gas Cooker
The backpacker classic! Nothing beats a Ford Falcon Stationwagon for touring Australia. Perfect for tourists on a budget who still want to experience Australia up close – not through the window of a bus!
Seating up to 5 people the hire of this stationwagon vehicle is cheaper than the bus. An affordable, economically sensible and dependable way to tour Australia. With the camping equipment, the Travellers Autobarn Stationwagon  hire can serve as your bush hotel whilst you travel along the east coast. Read more on why you should hire a Stationwagon here…
Please be aware, there is no bed inside the stationwagon.
Key Features
Ideal for groups
Lots of space for luggage
Option to sleep in tent or back of vehicle (own mattress required)
Fully equipped with cooking gear
Gas cooker & esky
Our Benefits
Access to FREE CAMP SITES
10% discount on premium camp grounds
TAB Drive Guide - access to exclusive discounts
TAB App - free roadtrip info
Extras
Unlimited Kilometers
Toll Free Service Number
24/7 Roadside Assistance
Free road Atlas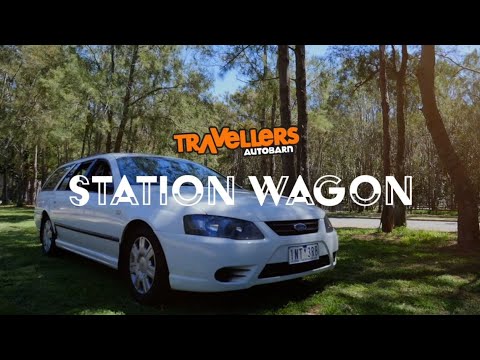 Specification Sheet
Vehicle age: 2006 - 2010
Transmission: Automatic
Engine: 4.1 litre, 6 cyclinder
Fuel: Unleaded
Fuel consumption guide: 12 - 14 litres/100 km
Powered Steering: Yes
Seating: 2 - 5
Air Conditioning Front Cabin
Cigarette lighter / Charger
All vehicles come with radio and potentially CD/MP3 Player
Baby seat (0-3 years): Available
Booster seat (4-7 years): Available
Tent: 2 man dome tent (part of living equipment)
Length: 5.3 m (average)
Height: 1.5 m (average)
Width: 1.7 m (average)
Interior height: Not relevant
Kitchen cutlery
Kitchen pots & pans
Tea towels
Cleaning equipment
2 man dome tent
2 camping chairs and table
Water tank
Esky
Portable gas cooker
Pull up at the beach, a caravan park or a beautiful site on the Australian coast, cook dinner al fresco, and bed down listening to the sounds of the Australian bush.
---
You may also be interested in: